Make your own instant photo magnets
Easy tutorial for creating instant picture magnets
Online since: 23/03/2022, Number of visits: 21603
Are you looking for a creative solution to showcase your most beautiful photo memories from your digital photo collection? And do you love the trendy and timeless look of instant photos? Then you have come to the right place. We will show you how you can quickly, and with only a few supplies, turn your favourite digital photo into a stylish instant picture magnet.


Materials needed
Prints of your favourite photos (on photo paper or thick copy paper)
Scissors or, alternatively, a box cutter, ruler and a suitable cutting surface
Edit and print your photos to achieve the desired size and shape
Edit your favourite photos with an image editing app or program of your choice. There are no limits to your design creativity. Alternatively, you can use this
template
in Word to easily add a white instant picture frame to your photos. It contains two options for creating magnets with the 40 mm wide
magnetic adhesive tape
and one template for slightly larger pictures to use with
A4 self-adhesive magnetic sheet MS-A4-STIC
. Simply replace the areas with a grey background with your images and print out your photos.
Tip
: For best results, print your pictures on photo paper. However, depending on the print quality, printing on thick copy paper also works well.
Cut out your photos
Now cut out your printed photos. Important: If you use our template for the 40 mm wide magnetic tape, we recommend cutting the photos within the margins of the black border. This way, the photos will have the right width for the magnetic tape and there won't be an ugly black border visible within the white frame.

Tip: As an alternative to using scissors, pictures can also be cut very precisely with a box cutter and ruler on a suitable surface or with the help of a cutting machine. This is especially recommended for larger photos.

Stick the photos onto the magnetic tape or magnetic sheet
Depending on the size of your photos, take either the magnetic tape or the magnetic sheet, remove the protective film from the product and press your photo onto the adhesive.

Tip: Gluing the photos on accurately is not that easy. However, unsightly borders can simply be corrected with scissors afterwards.

Cut the instant photo magnets out
Firmly press the photos onto the magnetic tape or magnetic sheet and cut out your finished creations. As already explained in the previous step, unsightly borders can easily be corrected with scissors.

Please note: Due to the thickness of the magnetic tape, cutting it with a box cutter will require several passes with the blade.
Congratulations, you are done!
These pretty magnets are not only suitable for decorating your fridge at home or your magnetic board at the office, but also make a great present. What could be more meaningful than giving a gift of shared memories?
Please note
: If you are planning to give these magnets as gifts, keep in mind that they are only suitable for mailing to a limited extent. You can find out why on our FAQ page
Can I send magnets by mail?
These instant photo magnets are great as a unique decorative item and, when the magnet makes full and flush contact, will adhere perfectly to ferromagnetic surfaces. They are, however, less suitable for hanging postcards or notes because the magnetisation is too weak for that purpose. To hang any keepsakes up with magnets, we recommend our
office magnets
or
neodymium magnets
.
Magnetic adhesive tape or self-adhesive magnetic dots can also be used to easily hang photos. In this video, we will show you how it's done: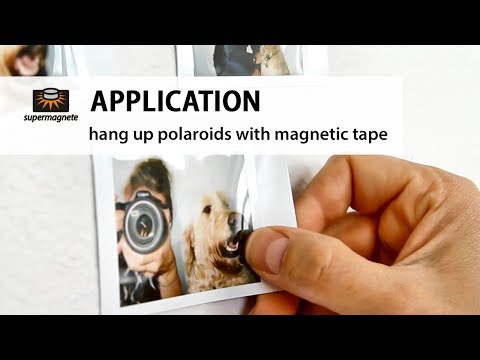 In our
handicraft guide
, you will find many more useful tips and tricks for making your own magnets.
With our selection of photo magnets, many photo projects can be completed quickly and easily.
Discover photo magnets
The entire content of this site is protected by copyright.
Copying the content or using it elsewhere is not permitted without explicit approval.