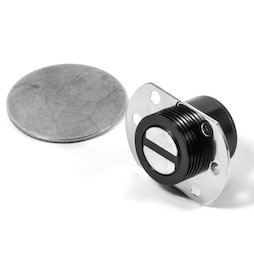 Door stay hinge magnetic
to hold doors open
Description
This magnetic door stay hinge keeps wooden doors open. There are two mounting options:
Countersink the magnet on the bottom side of the door.
Screw the magnet to the bottom of the door's backside, which requires accessory M-DOOR-02.
Depending on the required distance to the counterpart, the two mounting plates need to be positioned in one of the grooves. The included stainless steel plate has to be glued to the floor at a suitable spot and will hold the door open in the desired position.
Included accessories:
1 stainless steel plate (ø 45x1,5 mm, self-adhesive)
2 round mounting plates (50x34mm each) with holes
Optional accessories: