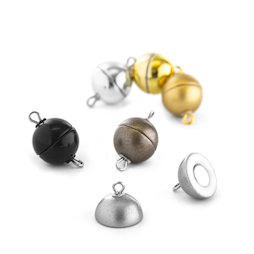 Jewellery clasp magnetic round small
for necklaces / bracelets, Ø 8 mm
Please select your desired model.
Description
This discreet, spherical magnetic jewellery clasp is perfect for thin necklaces and bracelets of all sorts. Two strong magnets are glued into the plastic clasp and safely hold your jewellery together. Sliding the two plastic halves sideways allows you to easily open the clasp. Ideal for allergy sufferers, because the sphere is made of plastic (free of nickel, lead and cadmium).
Select from classy colours (various metal colours, black or granite) the right one for your piece of jewellery.